Mombasa police said they were tracking a network of suspects linked to al Shabaab in the coastal region, home to many of Kenya's Muslims, who make up about 10 percent of the nation's 40 million people. Most Kenyans are Christians. "We have four suspects within Mombasa who we are closely watching. They came back to the country after training in Somalia," country police commander Robert Kitur told Reuters. Another counter-terrorism officer, who asked not to be named, also said four suspects were being tracked and added that two well-armed suspected militants killed in an August operation could have been planning a similar attack in Mombasa. "I will be surprised if they don't link the Nairobi attackers to those terrorists we killed in Mombasa," he added. DENTED IMAGE The mall attack has dented Kenya's image as a tourist destination, damaging a vital source of revenues. But rating agency Moody's said that although the attack was "credit negative" it would not affect foreign direct investment or a planned Kenyan Eurobond later this year. In 1998, al Qaeda bombed the U.S. Embassy, an attack that killed more than 200 people. Since then, Kenya has faced other smaller attacks, many claimed by al Shabaab, particularly along the border region next to Somalia.
UK taxpayers 'ripped off' by rural broadband roll-out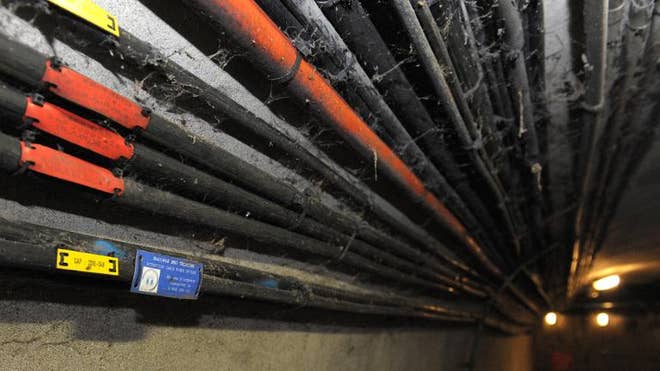 Morgan Cazenove is acting exclusively for the Company and no one else in connection with the Offer and will not regard any other person (whether or not a recipient of this announcement) as its client and will not be responsible to anyone other than the Company for providing the protections afforded to clients of J.P. Morgan Cazenove nor for giving advice in relation to the Offer, the contents of this announcement or any transaction or arrangement referred to herein. Securities Act of 1933, as amended (the "Securities Act") or any state securities laws in the United States or under the applicable securities laws of Australia, Canada, Japan, South Africa, Singapore or Hong Kong. person (as defined in Regulation S under the Securities Act). The Company has not been and will not be registered under the U.S. Investment Company Act of 1940, as amended (the "Investment Company Act") and investors will not be entitled to the benefits of that Act. This announcement may not be distributed, directly or indirectly, in or into or from the United States, Australia, Canada, Japan, South Africa, Singapore or Hong Kong or any other jurisdiction where to do so would constitute a violation of the relevant laws of such jurisdiction. This announcement does not constitute or form part of an offer to sell or issue, or any solicitation of an offer to buy or subscribe for, any securities referred to herein in the United States or in any other jurisdiction. The Offer and the distribution of this announcement and other information in connection with the Offer in certain jurisdictions may be restricted by law and persons into whose possession any document or other information referred to herein comes should inform themselves about and observe any such restriction. Any failure to comply with these restrictions may constitute a violation of the securities laws of any such jurisdiction. The price and value of securities may go up as well as down. Persons needing advice should contact a professional adviser. Certain information contained in this announcement may constitute "forward-looking statements," which can be identified by the use of terms such as "may", "will", "should", "expect", "anticipate", "project", "estimate", "intend", "continue," "target" or "believe" (or the negatives thereof) or other variations thereon or comparable terminology. These forward looking statements include matters that are not historical facts and include statements regarding the Company's intentions, beliefs or current expectations concerning, among other things, the Company's results of operations, financial condition, liquidity, prospects, growth and strategies. Due to various risks and uncertainties, actual events or results or actual performance of the Company may differ materially from those reflected or contemplated in such forward-looking statements.
BACIT Limited Placing and UK Offer for Subscription of C Shares
Senior Labour MP Margaret Hodge, chairwoman of the House of Commons Public Accounts Committee (PAC), said the awarding of all 26 rural broadband contracts to British Telecom (BT) had left the company in a "quasi-monopolistic position". The PAC report said the Department for Culture, Media and Sport (DCMS) mismanaged the project, and BT was exploiting its dominant position by restricting access to cost and roll-out information. "Too many people will not be able to access super-fast broadband because BT will have failed to deliver it to them," Hodge told BBC Radio 4. "The taxpayer has been ripped off with ??1.2 billion going to the shareholders of BT." The tender process which began in 2011 drew criticism when just two service providers – BT and Fujitsu – were named as approved bidders, with Fujitsu eventually dropping out. Hodge claimed BT was using its dominant position to keep details of local projects confidential, "preventing other suppliers from developing schemes aimed at reaching the remaining 10 percent of premises" still without broadband. The report said that the remaining 18 contracts, due to be granted by 2017, are also likely to go to BT. Hodge said local authorities are contributing over ??230 million more to the programme than forecast in the department's business case, while BT is committing over ??200 million less. She said this, combined with the DCMS admitting the programme would be delivered two years later than planned, meant consumers were "getting a raw deal despite the generous public subsidy". The report said the department accepted contract terms that were "overly generous" to BT but the government argued the tendering process had been fair, while a BT spokeswoman said it was "disturbed" by claims in the report which were "wrong". She said the company had been "transparent from the start and willing to invest when others have not. "It is therefore mystifying that we are being criticised for accepting onerous terms in exchange for public subsidy – terms which drove others away. The taxpayer is undoubtedly getting value for money." A DCMS spokesman said: "We disagree with the views expressed by the PAC which are at odds with the findings of the National Audit Office. "They found our approach reduced the cost to the taxpayer and reduced risk."
UK risks falling behind in cloud adoption, report reveals
The row over banking regulation and bonus caps in the European Union took another turn Wednesday with the U.K. announcing it was taking legislation limiting bonuses to a maximum of twice basic salary to the European Court of Justice. Philippe Lamberts, a Belgian Member of the European Parliament on its Committee for Economic & Monetary Affairs, told CNBC that it is not for the ECJ to judge the legislation. He argued that opponents are motivated by "self-interest" and that it is "fiction" that bonuses are linked to performance. Politicians' "unwillingness to tackle too big to fail" made bonus caps necessary, he added. Banking bonuses have become the focal point for much of the anger around the credit crisis, and are now causing international fallout. Under the law, bonuses will be limited at a maximum of a banker's base annual salary and will only be allowed to reach twice the pay if a large majority of a bank's shareholders agrees. Financial services are key to the U.K. economy, with the banking sector alone contributing 21 billion ($33 billion) to its tax take in the 2010-11 tax year. It has a larger banking sector than any other EU country apart from Germany, and banking bonuses were credited with buoying the housing market and the luxury goods sector during the boom years. The UK's action is a "significant step," according to Alex Beidas, employee incentives lawyer at Linklaters. Should banker bonuses be capped?
Financial services (36%), petrochemicals (39%) and healthcare (27%) organisations are most affected by legislation and compliance issues, citing them as the primary reason for slow cloud take-up. The global study polled decision-makers in 700 organisations across the UK, North America, Germany, Scandinavia, Singapore, Japan and Hong Kong. While 36% of UK companies have adopted cloud in the past 12 to 24 months, 22% have yet to adopt it, compared with an average of 14% globally. Although just 10% of UK respondents have already moved most data and services into the cloud, 42% will transition it in the next two years and 18% after that. Yet, 30% said they will never move their data, a figure only topped by Scandinavia with 42%. With increasingly complex data laws in the UK, it is become something of a minefield for businesses looking to become more agile and efficient using cloud, but perhaps feeling they are being held back. This is exacerbated by the fact that businesses in the UK typically have a much more conservative approach to cloud adoption than other countries, said Tom Salkield, director UK professional services at WideAngle. Businesses in the UK risk lagging behind because they are not exploiting the opportunity and potential of cloud computing to the full, Salkield told Computer Weekly. The study shows that UK companies using cloud services see significant business advantage in business agility and cost savings, said Salkield. According to the survey, 40% of UK respondents acknowledged an increase in revenue and 23% an increase in profits from cloud computing. Despite concerns, when asked which infrastructure they would choose to deliver secure services to the business, 42% of UK respondents opt for some form of cloud, with 22% selecting private, 19% hybrid and 1% public cloud. But when questioned about regulatory issues, 48% would choose a corporately owned datacentre and 20% a third-party hosted datacentre as the best way to comply with regulations, with less than a third opting for a cloud model. Although at risk of lagging behind because of a conservative approach, the 36% of UK organisations polled said they had adopted some form of cloud in the past two years. The UK adoption in the past two years was followed by Germany (34%), North America and Singapore (31%), Japan (25%), and Hong Kong and Scandinavia (18%). Range of enthusiasm for cloud According to the study report, all organisations fit into five cloud personas defined by their levels of enthusiasm for cloud computing and the extent of their adoption. Ranging from "Controllers" at one end of the scale, distinctive by their lack of cloud enthusiasm, the five personas also include "Accepters", "Experimenters", "Believers" and "Embracers" – the latter the most enthusiastic about cloud who have benefited most from its use. What's interesting is that it is possible to see attributes of these cloud personas identified in the report in different countries, although we defined them on a global level, with the UK falling into the 'Controller 'and 'Accepter' personas, said Sidaway.