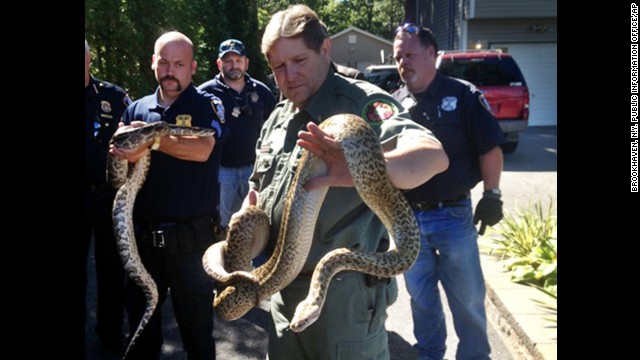 Richard Parrinello, of Brookhaven, New York, kept the snakes in his detached garage, all neatly stacked in containers and at the right temperature, according to Roy Gross, chief of the Suffolk County SPCA. Burmese pythons are illegal in New York, and Parrinello's were taken from the house to a reptile sanctuary in Massachusetts while the rest of the snakes are still in his garage, according to Jack Krieger, communications director for the Town of Brookhaven on Long Island. Gross said all the snakes appeared to be in good health and there was no animal abuse or neglect. "It was a well-maintained facility, it was very clean and organized, it was a business," Krieger said. Parrinello kept an online website, "Snakeman's Exotics," which advertised a collection of pythons, boa constrictors and hognose snakes available for sale both domestically and internationally. After weeks of investigation into alleged workers compensation fraud, the town of Brookhaven, the U.S. Fish and Wildlife Service, the New York State Department of Environmental Conservation, Suffolk County Police and the SPCA executed a search warrant in Parrinello's home, where he lives with his wife and 10-year-old son, according to a news release from Brookhaven. Undercover investigators spoke to Parrinello, who claimed to have $500,000 in inventory stored on the premises, including snakes, turtles and turtle eggs, the news release said. Authorities also say they found a few tarantulas and a couple of freezers with frozen mice and alligator carcasses. Krieger said Parrinello wasn't arrested or charged with any criminal activity, but he was running a business out of his residence in a residential area, which is a violation of the town code. Town Law Department officials are still investigating and will likely issue numerous violations in the coming days. When reached by telephone, Parrinello declined to comment.
Annual American Community Survey shows New York City has the largest gap of income inequality in United States
By James Warren / NEW YORK DAILY NEWS Thursday, September 19, 2013, 12:01 AM STAN HONDA/AFP/Getty Images Survey shows that New York City is the land of the haves as well as the have-nots. Related Stories 57,000 fewer children will be in the Head Start program because of spending cuts, the White House says WASHINGTON Any doubt about New York being a city of haves and have-nots goes out the window in a major Census Bureau survey released Thursday. No other major American city has such income inequality when it comes to rich and poor as New York, according to the data, released Thursday.The annual American Community Survey, a treasure trove used by governments, retailers and planners, is packed with numbers on everything from the jobs we have to the transportation we take to work. But one bottom line supports the campaign refrain of Democratic mayoral nominee Bill de Blasio, who says New York is a tale of two cities. Of the 30 most populous American cities, New York is tops in the inequality between the rich and poor. Of major cities, New Orleans and Miami come close but dont surpass New York, according to Adam Bee, an economist in the income statistics branch of the bureau. Poverty persists in New York. In 2007, before the recession hit, 18.5% of the residents of the citys five boroughs lived below the poverty level. By 2012, 21.2% were living below the poverty line, defined as total annual income of $23,283 for a family of four. When the surrounding suburbs are included, 14.8% live below the poverty line. But there also is good news in the new numbers. More New Yorkers have health insurance, an increase largely explained by more baby boomers becoming eligible for Medicare. In the metro area, 12.8% lacked insurance last year, a drop from 13.2% in 2011. Other data is very eclectic. For example, there were 4,275 females between the ages of 15 and 19 in the five boroughs who gave birth last year. Of those, 91% were unmarried.
New York judge denies request to shut down Dish Hopper
In addition to ABC, CBS (the parent company of CNET), and other companies have filed separate suits against Dish over its AutoHop feature. A judge in California also ruled in favor of Dish in July by rejecting Fox's appeal of a similar decision to not serve an injunction against the Hopper. Related stories T-Mobile CEO: I'm open to deals with Dish, Sprint ABC told CNET that the fight's far from over. "Today's ruling is only a preliminary decision and the first step in the judicial process," an ABC spokesperson said in an e-mail when asked about Wednesday's ruling. "We continue to firmly believe that Dish's AutoHop and PrimeTime Anytime services breach our retransmission consent agreement with Dish, infringe upon ABC's copyrights, and unfairly compete with the authorized on-demand and commercial-free options currently offered by ABC and its licensees." CBS, however, did get a small victory from Wednesday's ruling. The New York judge also denied Dish's motion to throw out the broadcaster's claim that Dish allegedly concealed the ad-skipping technology during contract negotiations . This means CBS can continue with its suit against Dish on this particular issue. CBS applauded the decision in a statement sent to CNET. "We are very pleased with today's decision, which allows CBS to proceed with its fraudulent concealment claim," CBS said in a statement. "This ruling allows us to show in trial that what Dish knew and what Dish said it knew are two absolutely different things and give reason to unwind a deceptive contract." When contacted by CNET, Dish did not comment on the matter. Dish's general counsel, R.